Mochi's Lucky Day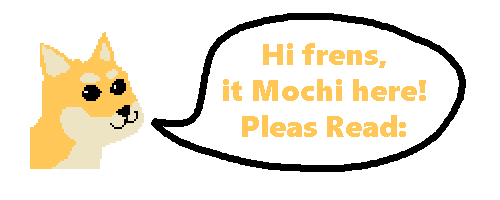 Hooman has been too busie with somting called fee-lamps? Fre-lansh? Not so sure what is. It not free-lunch, so me no care. Wat it mean, Hooman been on gaem making hiatus.

Anyway, no be sad! Mochi step up to task! Mochi has made smol game for frens. It true story. Me not lying. All true. You trust Mochi, cause we frens. Help Mochi relive my grate luck day. Me would have made long gaem, but paws got sore on ki-bored.
Mochi's entry is for Weekly Game Jam 114, "One Lucky Day"
Features:
Much new art!
Very recycled art! Recycling is heckin cool! Good for plenet.
Action!
Bugs... they features, Mochi swear!
Literal Garbage!
I recommendin the fullscreen!! Clic that button in the corner of the game window!
Such Control:

[ARROWS] or [AWSD] to move.
[UP] or [W] while jumping to double jump.
[DOWN] or [S] to drop through a platform.
[SPACE] or [LEFT MOUSE] to bark!
Eat APPLE CORES for health. Avoid PROJECTILES.
Beat up tronk. Get the stuf. Be happi. If like, pleas leave comment. Mochi love to get bak to you. If haet... Ok, me still get bak to you. Good customoor service. Me waiting.
(Game #15 in my "Jammie" series, #2 to focus on the doggos specifically)
All SFX CC0 from Freesound.org. Title music is "Honey Bear" by TinyWorlds on OpenGameArt.org. Game music is "Fight" by Ville Nousiainen on OpenGameArt.org.
For more doggo action, check out Cupcake's adventures in: https://shibeyfacegames.itch.io/100-seconds-to-express-your-feelings
See our meddling in: https://shibeyfacegames.itch.io/wheres-my-cake
And for additional doggo appearances and more fun, visit https://shibeyfacegames.itch.io/ !
Comments
Log in with itch.io to leave a comment.
Good little game, good gameplay.
Lmao... what the hell is this - this is what I call fun. I swear I didn't expect the theme could be elaborated into something as fun as this. XD

Hey Fren! Mochi here.
Much appreciate ur kind words! Mochi not haev much tiem to make thus, but tryed very hard! If u enjoyed, then it worth it! Thamks for playing!
Nice work, love the flying trash bins dropping trash.

The initial truck appearance made me think I was going to have to dodge it.
I feel like three sources of damage (smoke clouds, trash cans, driver) might be a bit much for any player to keep track of. Those smoke clouds are probably the biggest damage dealer because they're much harder to avoid, and there's a lot of them. Could maybe reduce them a bit but also reduce the player's health to compensate.


Hey Fren! Mochi here.
Thamk you for playing my gaem! Me love trash bins too!

Me originally planned for tronk to hit player, but ran out of tiem. Such sad.
Mochi not have much tiem for playtest... was gaem beatable? Mochi can beat it, but me lived thru these very true events, so have much practice.
I did beat it first try, but it felt like there were a lot of situations where things were unavoidable and the only reason I won was because I had a lot of health.

Hmm, yus, rebalance mayb good idea then. RNG of apple cores mayb also confusing. May go bacc and fix later when other things calm down! Thamks again! :)
Haha, really fun game!
I did something similar in terms of dodging things, if you want to check out my submission, it's in my profile.
I hope to see you in the next jam!

Hey Fren! Mochi here.
Thamk you fren!! You doin me a happi. Much glad you lieked it. I see if I can get hooman to check out u gaem. If not, maybe Mochi play it himself!