Cookie's Treasure Hunt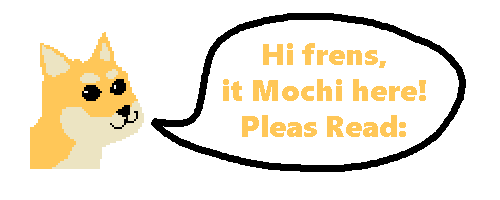 Stoopid hooman still so buzy. It bin heckin months. So Mochi do another solid and make new gaem. This tyme, focus on Mochi's fren Cookie! Cookie love blanket. Love so much. But then, blanket gonn! Send off to great stinky treasure pile. But no worry! Cookie not give up. Need GOOD LUCK though. Halp Cookie increase LUCK and find blanket. Don't get tired, eat SNACKS to keep stamina up. Gonna be hard though, good luck...

Mochi's entry is for Weekly Game Jam 141, "Good Luck"
Graet music by awesum fren: nic3core, https://nic3core.tumblr.com/ Check them out!

Features:
My fren Cookie the dog!
Much new art!
Very recycled art! Recycling is heckin cool! Good for plenet.
Action!
Bugs... they features, Mochi swear!
Literal Garbage! Again! Mochi so happi.
I recommendin the fullscreen!! Clic that button in the corner of the game window!
Such Control:

[ARROWS] or [AWSD] to move.
[CTRL] or [LEFT MOUSE] to dig!
Held direction aims your dig!

[SPACE] or [RIGHT MOUSE] to pick up items!
Eat SNACKS for stamina. Collect CHARMS for luck.
More luck, better chance of finding good ideas and special blanket!
Wach out for bad machine on HARD MODE.
Dig the holes. Find snaccs. Get Cookie's blanket back! If like, pleas leave comment. Mochi love to get bak to you. If haet... Ok, me still get bak to you. Good customoor service. Me waiting.
(Game #16 in my "Jammie" series, #3 to focus on the doggos specifically)

For more doggo action check out:
Comments
Log in with itch.io to leave a comment.
That was adorable! I found the blanket and the doggo was happy! Good job, Mochi!

Hey Fren! Mochi here.
Thamk you fren! Mochi not made a gaem in a stretch now, but glad to see it still bein enjoyed. Cookie very happi u found the blanket! Nothin warm a doggo's heart like a well-loved blanket!

Damn... I didn't notice that you uploaded a game XD
A few months off and returning with a crazy good game. I love the mining gameplay in general -- such a well executed concept; especially when I tried the hard mode, it feels so intense with the claw always chasing me. The graphics are the usual pixel art, but the artworks for the cutscene feel much more polished than usual -- dunno if you actually put more efforts to it, but it feels that way to me. Such a fitting music too that you found there.
Keep up the good work


Hey Fren! Mochi here.

Nice to sea you Fren! Mochi glad you enjoy gaem.
With all the social-distancing go'in on, had a bit more time to mess around with cut scene art. Even used tablet instead of mouse. Wouldn't quite call it heck'n master work, but maybe a bit more effort. Glad you notice!
Music was custom made by the cool fren "nic3core" (https://nic3core.tumblr.com/). If you like'n it, check out their work.

I see. I suppose all these quarantine and stuffs really left some people with more free time, which can be used to do sth productive.
As for music, for now I prefer to try to compose for myself... I mean, I have bought FL Studio for $199 after all -- but I think I will keep that in mind
BTW I'm hosting a game jam next month. If you're interested please do join ;)

Hooman gibe up on composing music long ago, sadly. But heckin respect for those who can!

Tempting jam! Mochi will send message hooman's way! Perhaps if they have time, they step out of Jammie-verse for a bit.

Congratulations! I can't think of anything that could be better in this game, it is already a Great Game!

Hey Fren! Mochi here.

Such praise! Much wow. Thamk you fren. Mochi always try'in his best. So glad you enjoyed!
I loved the music! I ended up acting a bit like a groundhog or purple worm, tunneling really far down. Then I started to worry about the shape of my tunnel, like I was in 2D Minecraft. I think you've made an immersive experience here!

Hey Fren! Mochi here.

Thamk you for playing! Easy mode exist because when test'n, I started to just enjoy the dig! Broke it up into two modes so players could enjoy it with or without the heckin stress. Mochi really glad you enjoyed!
Music was from the cool fren, nic3core (https://nic3core.tumblr.com/). If you like'n it, check out their work.

Welcome back! I really liked the claw machine guardian, that was really well done. The end screen doggo was adorable.

I feel like the items should probably get picked up automatically, or at least fall down when you break a block that's in the air.
Small bug, you're able to break two blocks at the same time if you aim between them.
Digging a staircase up is pretty hard due to needing to be directly adjacent to the block you're trying to break. Not sure if a terraria-esque way would work better though.
The blanket often spawns pretty close to the surface, it'd be good if it was limited to the lower half of the playable area or something.


Hey Fren! Mochi here.
Thamks for playing my gaem! It has been while.
Grate ideas! Mochi agree about items need'n to fall. May try 'in fix that later.
Mochi considered the double block dig a... feature... of sort. Agree on dig'n staircases being hard. U can ride the crane back to the top if feelin brav!

Blanket spawn is currently very random. Can spawn on gold tiles right at start if very luck. (2% chance). As luck increase, so does spawn chance. Blue tiles only spawn blanket with some luck filled. Agree'n that mayb this not best design, but thought fit theme of "Good Luck". Mayb player have really good luck. (Or bad... possible to never find blanket. Poor Cookie...)
Hope you had fun!

My kids like this game the best so far out of the GJ 141 games... I do to

Hey Fren! Mochi here.

Thamks for play'in! Mochi happi that yur kids enjoyed gaem! Really appreciatin the kind words. Hop'n to check out other games later! Lovin their artwork on your screenshots!